Following are some of the testimonials from our students and their parents. We appreciate all the feedback provided. We would love to hear from you. Click here to enter a new testimonial.
"My son is in 1st grade and he always enjoyed art. He asked to try Prachee's art as an after school activity. Max comes home with his art and tells us how much he enjoys the class. He also reminds us to keep enrolling him when the session is over. It is a lot of fun for him and I could tell how his skills are improving. Prachee is a wonderful teacher and a leader, she has a lot of love and patience for her work and for the kids. We are sincerely grateful for her amazing service and for helping Max to explore his talents for art."
- Yelena D, March 11th 2016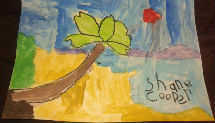 "When we first got the newsletter about Prachee Arts & Studios's classes, me & my son's Daddy thought it may be good for him. Shane is highly ADHD. He was in Pre-k and had been going to school since age 2 as per Doctor recommendation. Shane could not even hold a pencil after all the years in school and me trying endlessly to help him. We knew we had to do something different so we chose medication and art classes and the results were amazing. You would have never known it was the same child after a couple classes. Ms. Prachee had him not only holding a pencil but he could actually color and do it correctly. She was able to hold his attention. Me & His Dad have said since he first started with art classes that he got out of it more than any other therapy he had. She also brought out a passion in him that wasn't there before. So Shane didn't only just have art classes Ms Prachee taught him things that no one else could get through to him. And he will carry that the rest of his life. I was so upset to learn that she wouldn't be doing the art classes through Summer. She has really been a god send to our family and Shane just loves her. This picture is drawn by Shane that could not even hold a pencil much less color (click on picture to enlarge)."
- Sandra Parsels Kinghorn
"I am new to One-stroke but I am enjoying it immensely. One stoke class with Prachee is a wonderful blend of teaching, caring and fun. I truly enjoy her passion for art and teaching. She is encouraging and my results are much better than I expected. A couple times I tried to do this based on the TV program but it never looked good. What a wonderful improvement I had when being guided by Prachee."
- Karen M
"Not only is Prachee a good teacher, she inspires you when you see her own paintings. Not only have I seen my own progression after each class but also so has my husband. Prachee has given me confidence in my own painting abilities so much so that I have begun to include a painted piece in gifts for family and friends. Thank you, Prachee."
- Angela Worrock
"The course was informative and I learned a new technique. The snowman tray and the hibiscus flowers on the gift bag are my favorite projects. Prachee's teaching style is great. She is caring, patient and adjusts to the needs of the students."
- Katherine Cooperman
"I enjoyed learning the one-stroke method. It opened a world of creativity for me and I'm looking forward to doing more with this technique (murals, faux painting, etc.). I want to practice what I have learned so far and master it and will continue to take additional courses in the future. Prachee's teaching style was very easygoing; she is a very pleasant person. I would stress out about making mistakes, but she would put me at ease and show me how to practice the stroke before putting it on canvas."
- Mary Burgess
"I truly enjoyed my One Stroke class with Prachee. She is a great teacher, very knowledgeable and patient with each student. I learned a lot about painting in general and I feel very comfortable with what I learned about the One Stoke method to do projects on my own at home. At some point in the future I would like to continue with other classes she offers."
- Brenda Jones